Charlie Sheen abuses women!
this website and social commentary are neither affiliated with Charlie Sheen nor with any of the numerous women that have been abused by Charlie Sheen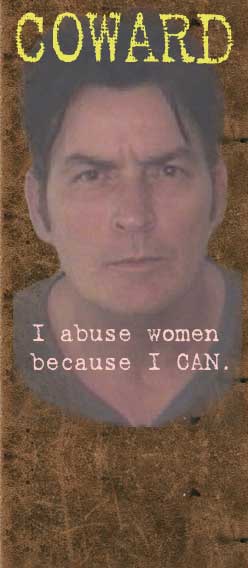 Some background: Abuse by Charlie Sheen
Charlie Sheen is a coward who abuses women. Like most cowards he knows to hide his abusive behavior from other men; he knows how real men would react.
1990
Charlie Sheen shot Kelly Preston with a .22 injurying her wrist and ankle.
1994
Charlie Sheen was sued by an unnamed student who alleged that Charlie Sheen had struck her in the head after she refused to have sex with him.
1996
Charlie Sheen was arrested for beating Brittany Ashland who received seven stitches in her lip.
2006
Charlie Sheen was accused of throwing chairs at then-wife Denise Richards as well as threatening numerous times to murder her.
2009
Charlie Sheen was arrested for felony second-degree assault, felony menacing and misdemeanor criminal mischief against then-wife Brooke Mueller who alleged that Charlie Sheen had strangled and held a knife to her throat in addition to threatening to murder her.
2010
Charlie Sheen was accused of putting his hands around the neck of Capri Anderson and threatening to kill her.
2011
Reports that Charlie Sheen had punched Brooke Mueller; threatened to "cut her head off" and then mail it to Mueller's mother; asked Mueller for help in laundering money to pay to have his enemies murdered; texted that he wanted to murder his Jewish manager: "I must execute mark b like the stooped jew pig that he is." [sic]
2012
Charlie Sheen continues to not take responsibility for his abusive behavior. He continues to show the world why he is NOT a real man. A real man obviously doesn't abuse women. A real man also takes responsibility for his actions. Who will Charlie Sheen abuse next? Since we know that Charlie Sheen is a coward we definitely know that it won't be a man . . .
Why has Charlie Sheen abused women?
Why is it that Charlie Sheen continues to abuse women?

Why have at least four women had to seek protection from Charlie Sheen?

Did Charlie Sheen's parents not teach him to not abuse women?

Charlie Sheen is an embarassment as a man.
Trying to prevent future abuse by Charlie Sheen
Educate the public about Charlie Sheen's abusive behavior.
Hold Charlie Sheen publicly accountable for his abuse of women.
Ensure that Charlie Sheen accept responsibility for his abusive behavior.
"If Charlie Sheen does not: (1) publicly accept responsibility for his abuse; (2) personally and publicly repudiate his abusive behavior; and (3) publicly renounce intimate abuse and violence we will boycott all sponsors and advertisers of Charlie Sheen and any projects with which he is associated."